This page is intended to be an instructional howto on using Google Earth to produce GPS tracks and routes.
I will also delve into the use of Google Maps and GMaptoGPX and gpsbabel.
Google Earth
Visit the above Link and download google earth if you don't have it yet for your OS.
GPSBabel
Visit GPSBabel also and download the appropiate version for your OS.
Google Maps to GPX
Time to visit the above page. theres a link there, just click on it and drag it upto bar under your URL.
Its a java applet that runs on your browser.
Topo Maps Google Earth
Google Earth Blog where the topomap typically lives.
Once you have everything else installed, download the above file from 3D Solar, (don't forget where you saved it)
Its a topographical map layer for Google Earth.
One note here, with the topo map your not going to be able to see the landscape in 3D like with the satalite photos.
Its not important because we're just going to be using it to plot out trails.
Now we get to move on to the good stuff.


Start Google Earth.
Now zoom in to the area of your choice.
or
Type Brock Creek Lake, Arkansas into the Fly To: Box.
Next click the box beside Brock Creek Lake.
Now we're looking at Brock Creek Lake, Its an Off Road Riding area in the
South East corner of the Ozark National Forest.
If you decide to visit please respect the trails and ride appropiate trails for your vehicle.
Be safe and enjoy.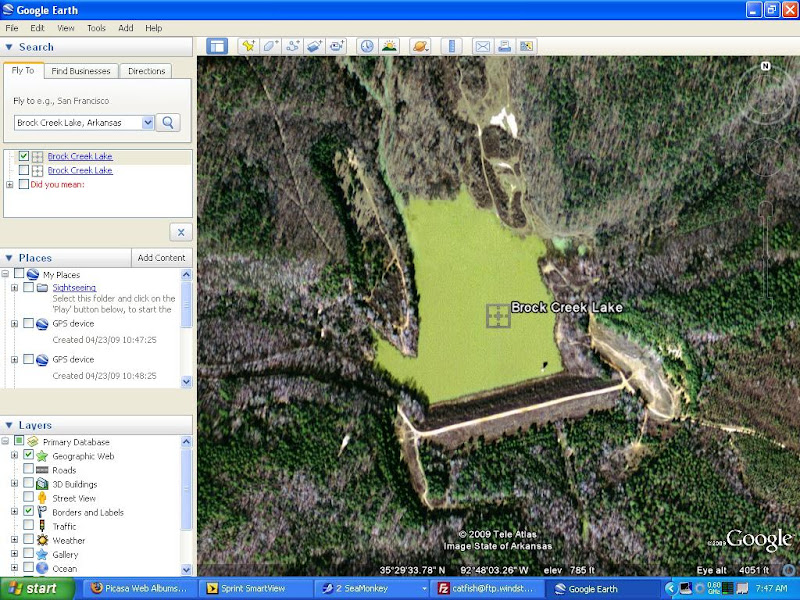 Next Lets zoom in to about 2000 feet.
You can see some of the roads and trails around the lake and feeder streams.
Zoomed in about 2000 feet.
Move Google Earth to the West.
Now to move move on to trail making, or path marking.
Right Click on MY Places and Add Folder.
This will open a window so you can name your folder, and click
OK.
If at anytime your creating an object once it created you can go back to that object and right click
on the object and go down to 'Properties' and you can edit it.
Now scroll down to the folder you just made, its named what ever you named it.
Right click on the folder and move over to Add again, and move down and
Click Path.
Now name your path and select a color for the Path.
DO NOT CLICK OK.
Click on the Style, Color Tab.
The trail is going to be Red, default color is white and its hard to see.
You might want to increase the trail width too. one pixel wide can be really skinny to see too.
Now just click on the window and drag it out of the way over off the edge of the screen.
Do not click OK
yet.
Now we're ready to start drawing out trails on Google Earth. Pick a point and left click on the map.
Move to the next point and click again, if you make a mistake right click on the mistake point, it will delete it.
You can see I made a J shape on what is a trail/road by the lake.
You can add pionts to the trail on the end or in the middle by clicking on the point just before where
you want to add to the path/trail.
Now click ok on the trail window. It will end this trail making session.
Now lets look at it in Topographical form. You can plot out trails exactly the same way on the
topo layer we're going to load up now. If you noticed I zoomed out a little.
To load the topo layer.
Click the topo link.
Topo Maps Google Earth
This will load it up into Google Earth.
It will originally be placed in the Temporary Folder.
You should see a screen looking like this, but if you see a big RED X zoom out some and It will orientate its location
and load the map.
Heres the topo map loaded. It can take a little time depending on the speed of your internet connection and computer.
Notice you can see our little red line trail on the map.
Now lets right click on your Brock Creek Folder.
Go down to Save Place As.
Save the file as a .KML not .KMZ, GPSBabel doesn't handle .KMZ files.
Next we're going to use
GPSBabel
download it now if you havn't yet.
Remember it developed by a volunteer and all donations would be gladly
accepted. Hosting is not free.
After you download it, right click on the .zip file and choose extract all.
you will be promopted where to unzip it to. I make a new Folder for it.
on drive C: called GPSBabel once its done it will show the extracted files.
Left click on GPSBabel GUI icon and make a shortcut, then drag that shortcut over to the
desktop. Now it will be easy to find. This program doesn't put itself on Start/Applications bar.
GPSBabel
Select your input, file as Google Earth (Keyhole) Markup Language .kml
just as seen below.
Next select your Output Device File type, I used Garmin .gdb since the Garmins are so popular.
Now lets select our input file you saved from Google Earth.
So now we've loaded our .KML into Babel.
Now lets choose the save file.
I choose BC.gdb
Now we need to select the parts of the files to convert.
Heres where sometimes it can create a mess with 100's of
Waypoints. So if your just doing a trail I suggest that you convert only the tracks.
Now click on the Lets Go.
Assuming everything went right your going to see this...
Now we can load the file into our GPS to the memory card or via usb cable, or even open it in
Mapsource.
With GPSBabel you don't have be tied to one model GPS anymore. You can easily convert gps file formats
between most any GPS made today.
Many thinks to the authors of GPSBabel.
Heres our little path on google maps. Its a little hard to seem, its the pink J shaped line beside the lake.
Feel Free to email me if you have any questions.
Theres more to come as I get time to do it.
Terry
aka Catfish and ZeCatfish