---
Sun Jun 24 2018 6:40PM - It was an enjoyable weekend doing Field Day. There were some glitches and some disappointments along the way, as always happens pretty much with any event. I'm not going to write a full report tonight. I may do that during the day tomorrow, but leave room for Mike to add his thoughts in Wednesday's entry when he visits for pizza night that evening.

Briefly, we put in about 16 hours operating with a sleep break Saturday night. Mike stuck with 20 meters and I covered the 80, 40, 15, and 10 meter bands. We made 482 QSOs which was 9 shy of last year. Our rough state total was 41 and we worked about 61 ARRL sections. More accurate totals coming later.

I did get my DX QSO on 30 from HK7AAG in a short break from the FD action.

That's it for tonight. I am a bit tired mentally and also physically after sitting still for so long. -30-


---

Sat Jun 23 2018 11:35PM - We're in the midst of FD, so no diary entry other than this today. A complete summary of FD in the next couple diary entries. -30-


---

Fri Jun 22 2018 8:17PM - I tuned to W1AW at 8:00PM (0000Z) as shown in the copy below for the FD message, and they had something else on instead. So if I read correctly, the next transmission of the FD message will be at 11:00PM (0300Z). I'll have to try then. Kind of discouraging. Or am I not reading this schedule correctly?


Day      Mode     Pacific    Mountain   Central   Eastern   UTC

FRIDAY   CW       5:00 PM    6:00 PM    7:00 PM   

8:00 PM   0000 (Sat)


         Digital  6:00 PM    7:00 PM    8:00 PM   9:00 PM   0100
         Phone    6:45 PM    7:45 PM    8:45 PM   9:45 PM   0145
         CW       8:00 PM    9:00 PM   10:00 PM  11:00 PM   0300
     
SATURDAY CW       7:00 AM    8:00 AM    9:00 AM  10:00 AM   1400
         Phone    8:00 AM    9:00 AM   10:00 AM  11:00 AM   1500
         CW       5:00 PM    6:00 PM    7:00 PM   8:00 PM   0000 (Sun)
         Digital  6:00 PM    7:00 PM    8:00 PM   9:00 PM   0100
         Phone    6:45 PM    7:45 PM    8:45 PM   9:45 PM   0145
     
SUNDAY   CW       7:00 AM    8:00 AM    9:00 AM  10:00 AM   1400
         Phone    8:00 AM    9:00 AM   10:00 AM  11:00 AM   1500
         Digital  9:00 AM   10:00 AM   11:00 AM  12:00 PM   1600

Anyway since the message wasn't there, I tried for and got my DX streak QSO. I first heard DF7MJ on 20, but he didn't hear me. Then I heard DL1REM on 20 and got him on the first try. It is nice to hear Europe on 20 meters after 0000Z again. I hope that bodes well for FD conditions this weekend. -30-


---

Thu Jun 21 2018 7:53PM - Mike visited today and after we went over some plans for our Field Day operation, we took a trip to Pittsburh. I'll have some pictures of that in a moment.

I had completely forgotten, and I guess Mike did also since he didn't say anything about it, that I signed up just after last year's Field Day for the 1x1 call of N3A for us to use this year in Field Day. I'm glad I was looking at last year's FD diary entry for something else and noticed that. So we will use N3A this year in our 2B operation from my front porch with some makeshift antennas to qualify for that category. I'll have more about that after FD is over. Anyway we do have all our equipment gathered up to assemble Saturday morning. It looks like a very rainy weekend which is why we decided on the front porch instead of a sun shade in my back yard.

As for the Pittsburgh trip, we wanted to go take a ride on the "T" which is Pittsburgh's light rail/subway system. It had just been built when I was winding up my job in Pittsburgh, and neither Mike nor I had ever ridden it before so we decided to go on a joy ride today.


That's the platform on the North Side that we started from.
That's the trolley/train on which we rode.
The control compartment with the conductor seated behind the pole and console at the left and you can see another train coming in the opposite direction.
A map of the RED LINE route we took. The one on the left from the starting platform to the big South Hills Village shopping mall where we stopped off for a bit then took the ride back to where we started.
Picture of Mike standing between the rails.
And me standing between the rails.


It was another great day with Mike as usual, and now I'm looking forward to our FD venture on this weekend. I wonder if we can top our 491 QSOs from last year. We should since Mike had to miss the first few hours of FD then because he had to work. This year we'll both be there for the full session.

No DX this evening. I only heard ZW18FIFA and a couple DL stations, none of whom heard me calling them. Mike and I also listened late this afternoon after we got home and didn't even hear any DX then. Kind of odd with the great propagation numbers of SF 82, A 3, and K 0. But then actual conditions are not locked into those numbers by and means. -30-


---

Wed Jun 20 2018 8:18PM - Both my DX QSO for the 20th and the 21st came quickly today. I turned on the rig not long after I got up at 1150Z or so. It was 1200Z when the rig came on and showed a peak at 10117 on the PX3. I tuned to the peak and it was KP4TF whom I immediately worked I think on my second call if I recall correctly. Then this evening the rig came on at 0000Z and showed a peak at 14015 just where XE2I was last night. It was he, and I settled down to see how long it would take to work him if I could get him at all which I couldn't do last night. Surprise! I got him on my very first call.

Thinking about those two QSO, I give all the credit for finding the stations to my PX3 panadapter. Without it, I might still be listening to find a DX station. Thinking some more, actually the panadapter is the only concession to any of the modern facets of ham radio that I use differently from how I did it in the 1960s.

Disclaimer: I have nothing against anyone who does use all the modern conveniences of ham radio. I just don't do it that way myself. Let's talk about some of them. I'm sure I'll forget some, but here goes.

Spotting. I much prefer to find stations myself and not have other folks point them out to me. Unless you count the very few times a ham friend told me he just worked so and so a few minutes ago, and I tried to see if I could get so and so, I have never used spotting to get any of my 90,000+ QSOs. Actually I can only think of a couple - V51AS and OD5ARMY. I'm sure there were maybe a couple more at most, but that is it.

Reverse Beacons. Actually I'm not even sure how they work. I think somebody posts somewhere that they heard you, and other folks check the posts to see if they want to try to work anyone posted there. Don't quote me on that. Anyway it sounds kind of like just a variant of spotting, and if so, I'll never use it for the same reasons.

Skimmer. Just a panadapter that identifies the station for you. I much prefer to tune to each peak and listen to hear who it is myself rather than have some piece of software ID for me.

Keyboard keying. If I want to type something to someone, I'll use a letter or an email. For CW, I'll use a straight key, bug, or keyer.

Memory keyer. Well I guess this may be another concession. I do use the memory feature in the KX3 to call CQ for me, but only when getting answers is slow, and I could be using the time to do something else in the shack instead of calling CQ manually. That's it for memory keying. I still send all contest exchanges manually, along with any other type of sending.

Computer logging. I do use this for contesting for two reasons. As I age, my writing and printing gets sloppier and sloppier to the point where if I'm in a hurry, I have trouble reading it later. The same with dupe checking. I used to be able to dupe check in my head easily up to a few hundred QSOs, but as the memory slips away, it gets harder and harder to dupe check after a few dozen QSOs. Especially with so many short and similar contest calls these days. Was that N1BT or NB1T or KB1T or K1TB I worked before? My computer knows, but I don't.

Other digital modes. I have no use for any but the original digital mode - Morse Code - and never will. Morse Code requires the use of my brain while the other modes downplay the brain in favor of the computer doing the work. I think just like the body needs exercise, the brain needs it also, and this is one way of getting the exercise.

Copying code via computer. This pretty much goes with the previous comments. Many years ago, just to learn how it was done, I programmed some software for the old Color Computer (remember them?) that copied Morse. It worked to a certain extent, but was just a novelty and I never used it in any QSOs.

I'm sure there are other modern features that I don't even know about. Even if I did, I wouldn't be interested. So I'll just sum up that for me it's Morse Code copied and sent manually with the aid of a panadapter to quickly scan for signals and a computer to log in compensation for decline in some faculties due to the ageing process. -30-


---

Tue Jun 19 2018 8:52PM - It cooled off a bit today, but still a little humid. Let's see, the high on my AcuRite remote shows as 84 or ten degrees cooler than yesterday.

The bands were a little better this evening, but still I didn't get any DX. I did hear Ger HK7AAG, but since I just worked him late last evening, I didn't bother him again. I also heard XE2I, but he didn't hear me. Those were the only two DX stations I heard. Hopefully I'll get my DX in the CWT sprint tomorrow morning or afternoon. Or maybe later tonight as I did last night.

I did something a little different today - a sewing project. Although I do sew to mend things, I never made anything from scratch until today.

My late aunt Virginia made plastic bag holders several years ago, and I had about a half dozen of them at one time. However when a friend moved into a new house, I would give them away as housewarming presents. That took me down to just having two left when I gave one away a couple weeks ago. So I thought I'd attempt making one myself. Virginia did them on a sewing machine which I don't have here. So it was the old fashioned needle and thread by hand sewing.

Let me descibe them briefly in case you don't know what I'm talking about. They are basically a tube of cloth anywhere between 1 and 2 feet long and 4-5 inches or so in diameter. There is a handle at top, and elastic at the bottom restricts the opening there so the bags don't just fall straight through. You put the bags in at the top as you get them at the grocery store, etc. and then pull one out at the bottom when you need one for something. Simple, but it sure is a great way to store plastic bags if you get as many of them as I do here. Get the picture? If not, here is a picture of the one I made today as it hangs on the cellar door in my kitchen.



You can perhaps just see a bag peeping out of the bottom ready to be plucked out and used for something. I'm pleased with how it turned out. Sewing the elastic around the bottom was the trickiest and most tedious part of the project. It was fun though, and maybe I'll make some more sometime.

I did learn something though. My aunt Josie was a great seamstress up into her 70s, and I have greater admiration for her now as I certainly noted how my age in the 70s made the simple task of sewing harder with the eyesight and lessened feeling and flexibility in the fingers, etc. It couldn't have been all that easy for her, and she did a lot more of it than I did.

I'm a bit late for my weather readings, so I'll get them, proofread this entry and post it after the readings. -30-


---

Mon Jun 18 2018 7:57PM - The hottest day of the year so far at 94 degrees on my AcuRite remote thermometer. Probably the official liquid in glass reading will show the same when I get it at 9 PM. It's still 88 degrees. Back with more after my trip to the shack.

The bands are sure not hot this hot evening. I didn't hear a single DX signal from 40 through 17. So I know what I'll be doing part of the time during the day tomorrow. I hope it doesn't take too long. I did work Bill K4VSV on 30 for the main streak though. We've worked many times through the years.

In contrast, last evening my DX came at 0002Z from WP3C on 30 meters. Then I tried some CQs since the DX came so quickly, and worked friend and fellow NAQCC member Bob K2YGM on 30. We had a nice rag chew till the band changed after some 23 minutes. He was telling me about a small loop antenna he recently purchased. I've always thought about trying a small loop especially for receiving as they may be good in reducing some of my local noise. I've used them for receiving AM BC stations as well as LW beacon stations in the past, and they are really good in those activities. I especially like an altazimuth loop that can be tilted as well as rotated. You can really get some good nulls that way, especially if there is only one noise source. Also you can really null local AM BC stations. I remember using one in my apartment in Pittsburgh, and I think the best example of that was being able to null out 50KW KDKA on 1020 deeply enough to pull in WPEO in Peoria Illinois in the daytime. It works best in the daytime when there is little skywave and almost all direct or ground wave to contend with. At night the skywave contributes to changing the polarization of signals almost continuously so you can't get that really deep null then.

Well, I kind of rambled on there, but I really enjoyed my time spent in AM BC and LW DXing. I've forgotten some of the stats exactly now, but I logged something like 1800 AM BC stations in all states but Alaska and some 60 countries. Just for anyone not sure, AM BC means 540-1600 kHz. Of course now the top end is 1700 kHz. The LW beacons consisted of aeronautical and marine beacons from roughly 190 to 420 kHz with some overlapping past those limits. It was also fun listening to the 500 kHz 'emergency' or 'calling' frequency. OK, enough rambling. It's getting close to weather reading time now, and then Roscoe walking time. -30-


---

Sun Jun 17 2018 7:20PM - Finally some hot humid summer weather. Very nice, as long as it doesn't get out of hand now. As I get older, I'm a little less tolerant of such weather. It still beats the winter weather though. I did a little outside work today, but mainly I've been at the computer with my fan blowing on me. I tied some of my roses to their trellises, and my beefsteak tomatoes to their poles. My Siberian tomatoes are coming along nicely with a lot of little green tomaotoe. The biggest just over an inch in diameter. As you may know, they don't really get all that much bigger than that even when they ripen. The pepper plants are growing at a steady pace. I don't see any flowers on them yet, but there may be some buds. I didn't look all that close today.

I just took a break and went for a short 10 minute walk. I really felt the heat, and now I'm back in front of the fan until it's time to go to the shack and try for my DX QSO. Hopefully it won't take long as it is warmer on the second floor where my shack is. -30-


---

Sat Jun 16 2018 8:47PM - It wasn't easy, but after trying and failing with about a half dozen DX stations, I finally ran into a persistent op with good ears at HG1FIFA who stuck with me on 40 meters for a couple minutes to get my call right. Thanks, whoever you are.

I'm not sure which is more frustrating. Hearing and calling DX, and having them not hear me at all - or - not hearing any DX at all. Both situations happen to me with the not hearing anyone at all prevailing. It's even more frustrating hearing stations I usually easily work and having them not hear me. That happened this evening with Andy HB9CVQ on 30 meters. He was pretty strong peaking at S7-8, but all I got from him was a tentative 3?. I remember working him on 80 meters back on Dec 10 last year on 80 meters pretty easily at 2352Z to preserve my DX streak. I also worked him again on 80 meters on January 15 this year. Neither time was he very strong, but he worked me fairly easily both times. Strange how propagation works. -30-


---

Fri Jun 15 2018 8:21PM - The Elks Flag Day ceremony last evening was really inspiring as it is every year. I wish we had more patriotic events here in Kittanning. It's really wholesome entertainment as well as a great tribute to our great Republic and its flag. I took some pictures, but it's really an audio ceremony and not a video one, and I don't think I will post any of the pictures. About the only good pictures would be of the various USA flag styles over the years and I was kind of in the background of the audience and couldn't get any good pictures of them. Also it was calm and the flags just hung limply on the flagstaffs after the Boy Scouts marched them in. I guess to really appreciate it, you had to be there, and I'm glad I was.

The bands seemed good this evening, and I got OM2VL at 0004Z for my DX streak QSO on 20 meters. There were some strong Asian signals in the All Asia contest. They all had big pileups though and I didn't try any of them. Maybe tomorrow evening when the pileups should be diminished quite a bit. -30-


---

Thu Jun 14 2018 8:19AM - I hope you are all flying your flag proudly on Flag Day today. I just hung mine on my front porch a few minutes ago as shown here. That flag is the one that draped my dad's coffin when he passed away back in 1964.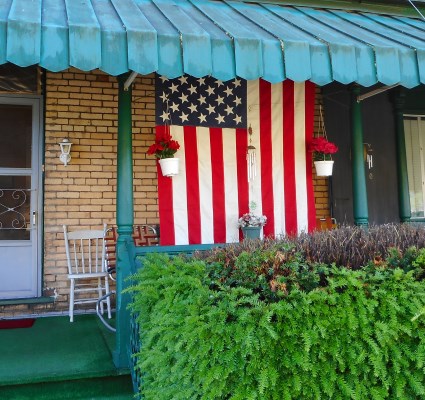 We had some severe weather late last afternoon and early evening. There were three tornado warnings for portions of Armstrong and nearby Indiana counties. I'm not sure just where the touch down(s) were, but they weren't in Kittanning itself for sure. We did get hail though as shown here. I must have had 15-20 hailstones on my porch which were blown in by the very strong winds. Although they melted fast, the largest of these in the pictures measured 3/8 inch when the picture was taken a few minutes after they landed. I'd guess they were about 1/2 inch before melting. I think as far as I can recall, those are the biggest hailstones I've ever seen "in person".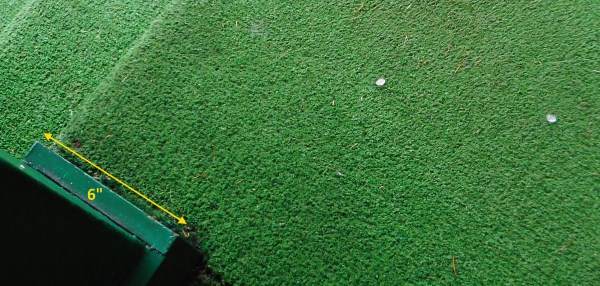 These rainfall pictures don't really convey just how hard it was raining, but perhaps do give somewhat of an idea. The water only puddles like the one across the street when the rainfall exceeds a certain rate as it drains very quickly otherwise. Also those streams off the awning are pretty thick and continuous. In normal rains, they are much thinner and not continuous. We got 0.88 inches in perhaps 15-20 minutes total time from three showers, most of it in the shower shown in the pictures. There was almost no lightning and thunder with the showers. In fact I only recall hearing some thunder well before the showers arrived and shortly after they departed.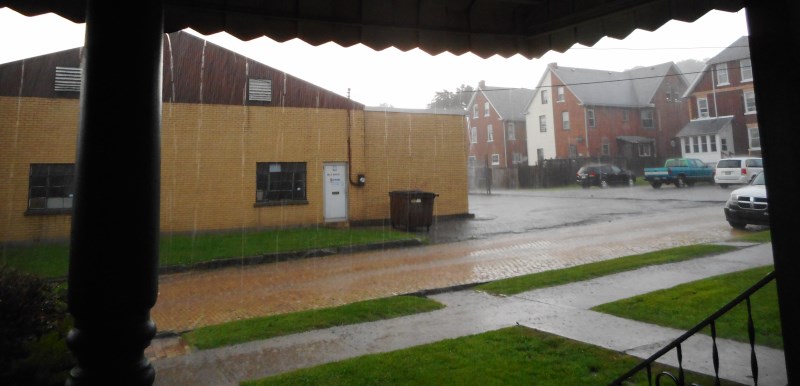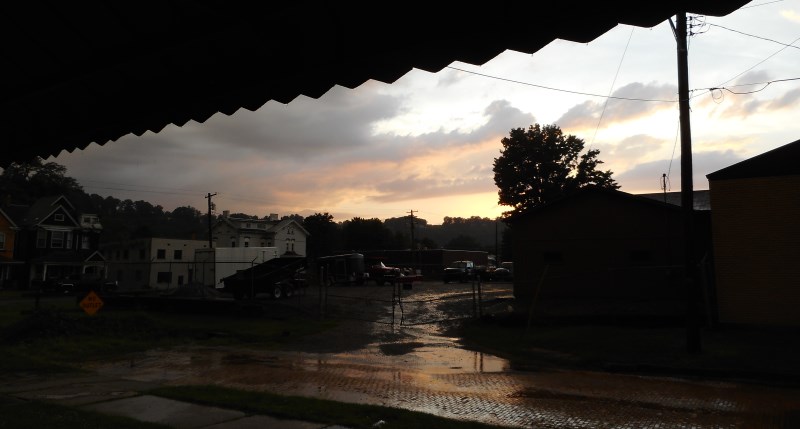 All in all, an exciting evening for this meteorology nut. I really enjoyed being out on the porch (after the burst of hailstones stopped) watching and photographing the rain. -30-


---

Wed Jun 13 2018 9:15AM - As promised, here is my 'soapbox' for last night's NAQCC sprint. I did exactly what I said. I stayed just long enough to get 10 QSOs. After I worked WB8LZG at 0101Z, I waited a few seconds for any tail end calls, and not getting any, I quit.

This will probably be my MO for future sprints. I seem to have lost some enthusiasm for them since I am no longer involved in doing the cross-checking and other associated chores. I do want to keep my record of never having missed a single one of our some 175+ sprints (counting our regular, 160M, and QRPp sprints), so I will keep entering, but probably not stay the full two hours. My friend Don K3RLL has been doing the same thing, getting 10 QSOs, then quitting, for many sprints over the past few years now.

Conditions were kind of the middle of the road here last night with signals neither overly weak nor overly strong on 40. On 20, there was little heard there as usual, but I did make 2 of my 10 QSOs there. It seems that in general, I do not hear QRP signals all that well on 20, and actually find it much easier to work DX stations than domestic QRP stations for whatever reason.

My first QSO was on 20 with John K4BAI. John and I have worked 193 times in contests and sprints since 1964. Our first QSO was on May 10, 1964 in the GA QSO Party. John has always been a contesting hero for me with his dedication to the art and his efficiency in contest operation. There are many others I also admire very much, of whom I will only mention two who unfortunately are now SKs - Larry W9IOP and Vic W4KFC. In the 1960s and 1970s, you could tell it was Vic or Larry simply because their signals were head and shoulders above other signals. You didn't need to wait to hear their call sign. Nowadays just about every serious contester has a contesting super station and none really stand out among all the rest.

Just a final note on John. We've also had 36 other rag chew type QSOs for a total of 229 QSOs.

To close this entry now, thanks to any of those reading this whom I may have worked in the sprint last night. Eight of those I worked are regulars that I've worked many times now with two that I worked for the first time in an NAQCC sprint. Thanks to all others taking time to read my diary. -30-


---

Tue Jun 12 2018 8:18PM - Just a quick entry tonight. The NAQCC sprint is coming up in just a few minutes. I want to get in it for a few QSOs. Maybe I'll shoot for 10 as I did last month. However I wound up with 26 instead as just as I got #10, a run started and I stuck it out for another 20 minutes or so.

Whatever happens, I'll have comments about the sprint in tomorrow's entry. Now I gotta run. -30-


---

Mon Jun 11 2018 8:44PM - The bands were not near as hot as they were last evening, but still I managed a quick DX QSO from TI2/KM4HI on 20 meters. Actually after I called him with a wrong antenna and got a W3?, I went to the correct antenna and got him right away. Other than that, I didn't hear any DX at all except a very weak 9K2NO on 20 meters.

It was a busy day today with two loads of laundry, then helping Ange in the garden for a while. I also spent a lot of time working on my family tree which now has just under 2,800 blood relatives among a total of some 4,300 or so names.

The weather was cool again with a high just around 70 or so. My AcuRite remote shows 69 for a high. The folks on Penn State's Weather World show say it is going to gradually warm up the next several days and perhaps hit 90 on Monday. We'll see. -30-


---

Sun Jun 10 2018 9:13PM - Interesting conditions this evening. There was some sporadic E skip opening up 6 meters and giving short skip sigs on the higher HF bands. But also DX was very strong on 20 meters. It's fun when conditions are like that. I didn't work many stations, just 5, but it was enjoyable listening.

I worked CT8/OH2GEK in the Azores on 20, then AB2VI in NJ on 30, I called CQ on 20 and got K8OD in MI and was tailended by Key K7MOA in GA after that QSO, next I closed out with CN18FWC in Morocco on 20 for another World Cup station.

On 6 meters, I had some high local noise so didn't work anyone, but I did hear stations from Ontario, and the W5 and W0 USA call areas. There was some kind of test going on on 6 meters. I don't know what it was.

Yes, it was a fun hour or so on the bands this evening. Hope we have more evenings like that. -30-


---

Sat Jun 09 2018 8:33PM - After a rough day yesterday, it was back to a quickie DX QSO at 0001 this evening when I worked MD2C on the Isle of Man in some kind of contest called 'SA'. Let me see just what that is. I guess it's the Argentinian GACW contest and the SA stands for South America. After that I also worked YL3IZ/MM in the contest just because I haven't worked a MM station in a while. He was somewhere in CQ Zone 8 in the Caribbean. Then I had a rag chew with K2QBN in Florida on 30 meters.

While I was working K2QBN, I was looking at my latest log page which goes back to May 29. I found it interesting to see there was only one 40 meters QSO. The rest of the 21 QSOs were on 30 and 20 except for one on 17. Also all but four QSOs were DX. I guess so far, the decline in sunspots hasn't really hurt the ability to work DX with QRP and simple antennas on CW. Of course there are the rough days like yesterday, and there should be more of them coming as we go deeper into the sunspot minimum.

I'm sure you all know about the Wouff Hong. If not do a Bing search for it. Anyway it should be brought out and used anytime someone sends those endless CQs without identifying, then usually they send their call sloppily one time. I personally never answer anyone who engages in that practice. I have always found it best to use a 3 x 2 CQ, i.e. CQ CQ CQ DE K3WWP K3WWP K. Then pause around 3-5 seconds to listen for a reply before continuing with the 3 x 2 CQs until I get an answer or give up. Keep that in mind and you'll enjoy great success in making contacts. -30-


---

Fri Jun 08 2018 6:39PM - This looked like a day when the DX streak was going to end. Fortunately there haven't been too many of them lately with the pretty good conditions in the 0000Z hour.

However after not getting anyone later last night, I started looking in the 1200Z hour, and then each hour after that till the 1600Z hour with nothing to show for it. I wasn't even hearing anything workable. There were a couple stations that just broke over my noise level at S3 or S4 and QSB would take them back under over and over again. Then I had to do some shopping with my neighbor and didn't check again until about 1830Z or so. Still nothing until sometime in the 2000Z hour when conditions picked up just a little with stations at s6 on peaks. But there was either too much competition or they just weren't hearing me at all. One IQ station was particularly strong, but he wasn't hearing me at all. Signals were gradually improving so I thought this would be the time to stick with it, and I did. Finally around 2050Z I caught the letters AO and figured it might be HC2AO. It was, but he wasn't hearing me well, but finally did send WP?. Still when I came back after that, he didn't hear me at all. That's how quick conditions were changing. Alex did stick with me though, and did finally get my call. He gave me a mighty 219 RST, and I gave him a pretty honest 559 and we thanked each other by name and the streak has now reached 1,926 days. A real WHEW! day. Hopefully the next couple weekend days will at least provide some more activity even if conditions aren't any better. -30-


---

Thu Jun 07 2018 8:38PM - I guess I jinxed things when I talked about getting my DX QSO in the 0000Z hour the last 18 or so days. There was nothing workable tonight in that hour. I heard two Spanish stations, one on 40, AO18FWC, and one on 20, EA2VE, but both were very weak just barely above my noise level and neither heard me at all. That's not good either, because I'm going on a shopping trip in the morning with my neighbor, so the DX will have to be gotten either later tonight or tomorrow afternoon or early evening.

A lot of time lately has been taken up working on my family tree genealogy. It's really fascinating to see just how many people one can be blood-related to. Of course everyone in the world is related going back to Adam and Eve, but.... Right now I'm up to about 2,725 relatives, most of which I've gotten from two web sites, Find a Grave and Family Search. I haven't even explored very much the many other genealogy sites yet.

Nice weather again today. Great to be outside walking, or just sitting on the porch with Roscoe. Also working in the garden is great when it is like today. Low humidity and temperatures in the low to mid 70s. -30-


---

Wed Jun 06 2018 8:22PM - Yet another quick DX QSO at 0003Z when I worked KP4TF on 30 meters.

Today was a chilly day barely making it into the 60s. So far it looks like our alternating month pattern may be continuing. Although we did get out of sync in March and April. Here are the months so far this year with the departure from normal.

Jan -0.7
Feb +8.1
Mar -2.3
Apr -2.9
May +9.4
Jun -2.1 (so far)

It will be interesting to see how it plays out the rest of the year. That's what makes the hobby and study of meteorology so fascinating. There is always something different. -30-


---

Tue Jun 05 2018 8:18PM - This was a day of doing a lot of little things. I guess if I were married, they would be what are called "honey dos". I won't bother listing them here as it would take up too much bandwidth.

Instead let's get right to the ham radio bits. The last couple evenings I've again gotten some very quick DX QSOs. Last night it was XE2I at 0003Z. Tonight NP4AW at 0007Z. Oh, and on Sunday evening it was HD18FIFA at 0002Z. If I recall correctly, it's been a while since I haven't gotten my DX in the 0000Z hour. Let's see. Looks like it was back on May 18 when I worked OT70TLS at 1633Z. That's 18 days in a row now, and I appreciate it since with the nice weather, there's a lot more to do during the daylight hours. -30-


---

Mon Jun 04 2018 8:47AM - Thanks to Mike for "ghost writing" the diary entry yesterday also for the great fun weekend we had together at Butler and on the Requin. As he mentioned, I'd have some pictures for today's entry, so here we go.



Here's a different view of the sub than ones we've posted in the past. Because of construction, we approached the sub from a different angle this time, and this view jumped out at us. It really shows the size of the sub.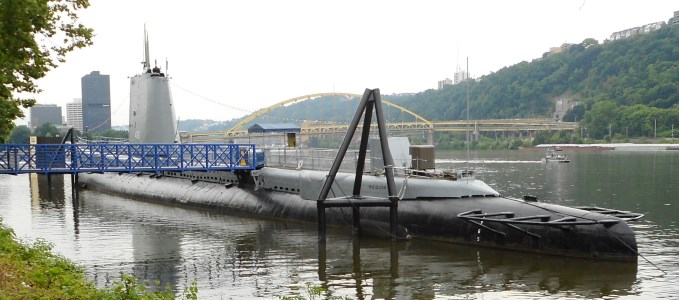 A familiar view of the sail which explains the 7048.1 and 14048.1 frequencies we used.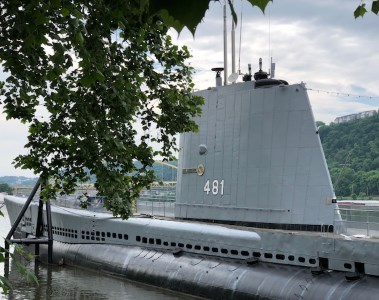 Our friend and sub "caretaker" Art WA3BKD and Mike.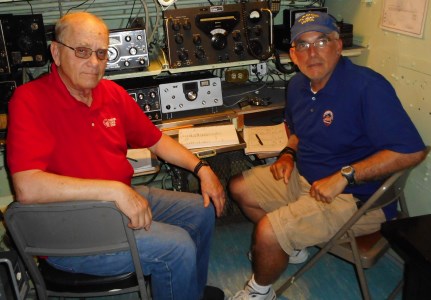 Mike busy making contacts.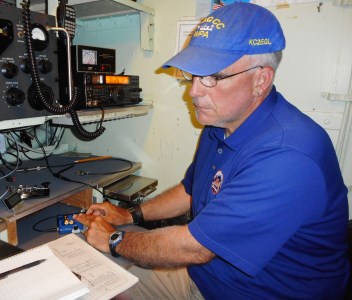 Art and John.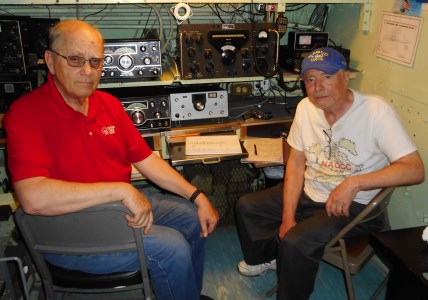 John busy making contacts.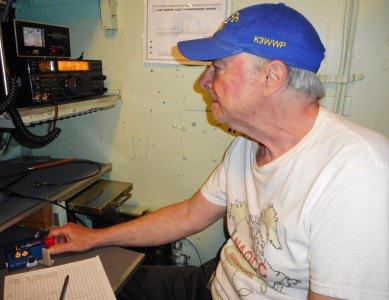 A happy John and Mike taking a brief break from the fun for a picture.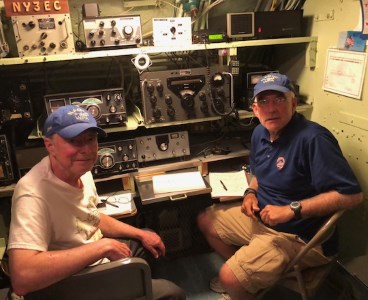 Thanks go to Art and the Carnegie Science Center for inviting us to help out in the Museum Ships on the Air event. I hope the situation can repeat in 2019. It was a blast. -30-


---

Sun Jun 03 2018 4:40PM - And now, heeeere's Mike!

Good evening everyone. Our day started when I arrived at John's QTH shorty after 8AM. We chatted for a bit before heading down to Pittsburgh. We arrived just before 9:30AM. After a short wait the staff of the USS Requin opened the gate so we could go down below to the radio room where Art was waiting for us.

Art gave us a quick run down on the ships ICOM. We took it from there. Don't tell anyone but John operated QRO today. Yes he will have to serve penance for such a sin (Hi-Hi!!!). We had a good time operating and conversing with the guest's touring the sub. All in all we made 36 QSO's (three of which were with other Museum Ships, USS Salem, USS North Carolina, and USS New Jersey), and logged 17 states. Art WA3BKD even logged two 2M QSO's for the event. We did not count those in our count though. And no we did not forget about food. We both brought our lunch with us to the sub. And we are about to head out to Wendy's for dinner.

As ususal it was a great day of radio operating with John. So until next time (as Charles Osgood used to say on his Sunday morning T.V. program) 'See you on the radio'.

de Mike KC2EGL 73.

P.S. John will have photographs of todays activities in his diary entry tomorrow. -30-


---

Sat Jun 02 2018 7:51PM - It was a good hamfest today. Our on-air activity was on the slow side, but we had a lot of great eyeball QSOs with hamfest visitors. The visitors were very interested in our setup, both the rigs and our antenna.

On the air, we were only able to make 3 QSOs because of a lot of time spent talking with visitors plus poor band conditions when we did have time for getting on the air.

Now 3,000 more words in the entry. That is since a picture is worth 1,000 words, here are Mike KC2EGL, Tom WB3FAE, and John K3WWP at our NAQCC table.



Tomorrow Mike will write an entry about our USS Requin Museum Ships on the Air activity. -30-


---

Fri Jun 01 2018 8:18PM - Another busy day today. First let me update the info on our weekend activities. At the Breezeshooters Hamfest, we'll be in building Demo Grange. The NAQCC table will be ready to go shortly after 8AM barring the inevitable delays. Actually it will probably be more like 8:30AM. We'll operate around our usual frequencies of 7039, 10115, and 14059, but also we will chase some DX to show off the capabilities of QRP/CW in that regard. We'll probably stay until 2PM or so.

On Sunday at the Requin, we still don't know the exact hours, but the frequencies will be 7048.1 and 14048.1 which relate somehow to the frequencies used by the Requin when it was active.

It was a nice cool day today - just about right for a change. Roscoe and I spent a lot of time outside enjoying the weather. I did many other things like paying my first of the month bills, some cleaning, and so forth. I also cut my hair early this evening.

Moving along now, I got my DX QSO(s) quickly again this evening. First it was TI8II on 17 meters who had me as K3EWP and although we exchanged reports, etc., he never did send my call correctly. So I went for an insurance QSO and found another FIFA station on 30 meters. It was YW18FIFA and he did send my call correctly, so another day in the streak and I'm good till the next 0000Z hour comes along with no worries during the day tomorrow. -30-


---

Thu May 31 2018 8:34PM - I got a case of serious ambition today and did a ton of work including my usual end of month things. I had gotten behind on several updates on my web site, and got caught up on a few of them today like my visitor list, guestbook archives, WPX totals, and a couple other things. I uploaded my May QSOs to LoTW and eQSL. I also did some non-ham things that I'm not going to list here. It was a busy day.

Now about all I have left to do for the change of months is put my weather in my Microsoft Excel weather spreadsheet and also make a trip to the bank and a couple other places for my financial doings. That will come tomorrow morning, weather permitting.

I'm continuing to get my DX streak QSOs very soon after 0000Z each evening. Tonight it was 0001Z when I got CU2DX on 30 meters with a single call. I worked him right after W3AKD did. Then I moved down the band a ways and called CQ and W3AKD answered me. We chatted about 10 minutes, then I thought I'd just see what was on 20. I saw 3 or 4 very strong signals on the PX3. The first one I IDed was HD18FIFA whom I easily worked after he worked a couple other stations before me. I did beat a small pileup to get him. Perhaps there will be other FIFA stations for the 2018 World Cup in Russia. I'll have to watch for them. I guess the 18 is for 2018. Anyway it's a new prefix to add to my WPX totals when I next update them in a month or so. -30-


---

Wed May 30 2018 8:27PM - Another of those super quick DX QSOs tonight. Not quite as quick as the other night though. Tonight I started sending my call in response to HI3T closing a QSO at 00:00:03Z and got him with that call. That closes out another month of daily DX QSOs. Let's see, a little brain math tells me that's 63 full months now or 1,918 days.

A couple weeks ago I sent in my license renewal to the ARRL who renews them for free from the FCC. I kinda forgot about it until today when I got a letter from a VEC whom I won't name who wanted "only" 7 dollars to renew it for me. That went right in the wastebasket. Then I went to the FCC ULS site and printed out my renewed license which is now good through August 7, 2028. Wonder if I'll be good that long. So at least the VEC letter reminded me to go get the license. I think I mailed the application to the ARRL on May 16, and the date on the license says it was processed on May 21. That's darn speedy. Thanks ARRL and FCC.

It wasn't as hot today as yesterday - 86 vs. 93, but still pretty humid. It was nice enough to get my backyard grass cut in late afternoon. I always enjoy the exercise of doing that. With all the stuff in my back yard, it's a real maze to cut around the vegetables, flowers, tree, thermometer shelter, and sundial. I think I mentioned it all. And that's all within a perhaps 16 X 16 foot yard. I will have to measure it someday. Maybe when Mike and I make our FD plans. I bought a screen house last year and we need to see if we can set it up in my back yard. Maybe we'll do that Saturday after the Breezeshooters hamfest.

Yes, another year has rolled around and it is time for the Breezeshooters gathering in Butler, PA again. This year it's a Saturday/Sunday affair, and Mike and I will be setting up a NAQCC table again this year, hopefully with better results than last year. We'll be there for the Saturday session. We had no room for setting up an antenna last year which upset us greatly. Since then, Mike has been working with the organizers to be sure we have a better spot this year so we can demo the KX3/PX3 combo and actually make some QSOs this year.

Then on Sunday, it's off to the USS Requin in Pittsburgh where we'll do the CW stint for the Requin in the Museum Ships on the Air event. Art from the Requin asked us if we'd like to be the ops and we jumped at the chance. We couldn't do the whole two days at either event since we were committed to both, and both are on the same weekend. Since the Requin event is not associated with the NAQCC or QRP for that matter, we'll be operating QRO from the Requin. That will be my first QRO operation outside of a couple very isolated QSOs, since I ran 50 watts or so back in the 1960s and early 1970s. Actually QRP was defined differently back then, and the 50 watts was according to definition QRP.

I'll try to have a little more detailed info on both events in tomorrow's (or Friday's) diary entry. Such as times and frequencies where we'll be operating.

OK, now I'm going to close out my log for May and get the QSOs uploaded to LoTW and eQSL plus some other end of month things. -30-


---

Tue May 29 2018 7:42PM - I want to get these pictures in the diary first, then I'll write the rest of the diary later.



Left is the bush in front of my house which I recently trimmed. I took off about a foot and a half of growth off the top and left it alone around the edges. I want to see what happens after such a severe cutback. If it doesn't make it, then I'll just get a new one next year. Actually it is two bushes grown together. The flag as I've mentioned before is the one that covered my dad's casket at his funeral back in May of 1964. Wow, that's 54 years ago now. Where does the time go? At right of course is Roscoe lying on the floor in one of his favorite poses.

Well, I think I'll just let it go at that and not add anything more as I said I would. -30-


---

Mon May 28 2018 MEMORIAL DAY 8:17PM - Another 0000Z DX QSO this evening, actually 00:00:40 or so to be more exact. Not like the 00:00:00 one the other night, but I'll take it. I saw one big peak on 20 meters on the PX3, tuned it in to see who, and it was Alex HC2AO whom I prompltly worked with a single call to make it 1,916 days for the DX streak.

And now for something completely different, Monty Python fans. Well not really, but a bit unusual. Since I got the DX streak QSO so quickly, I thought I'd try some CQs for a while, so I went to 30 meters since that band often gets surprise answers to my CQs. One of the biggest was TA3D several years ago. Tonight it was Cesi I2ZFD who answered and we chatted for several minutes. I can't remember now if I ever worked Italy via my CQ. I think I have a query for that in my Microsoft Access log. I mean countries via CQ. I'll have to check. Sure I do. Italy is not new. I have a total of 3 QSOs via CQs now. There is a total of 54 countries who've answered my regular CQ. I very seldom call CQ DX, probably less than a couple times a year or so. Germany leads the list with 20 such QSOs, followed by Puerto Rico with 18, England 16, Czech Republic 7, France 7, Hungary 6, and all the rest 1, 2, or 3. The Turkey was from Asia, so I have WAC via CQ. Oddly, the only Africa was South Africa on 40 meters. Oceania came from the three QSOs from stations in or near Perth that I've talked about in the past here in the diary. There are many from the other three continents.

Otherwise I had an enjoyable and busy Memorial Day. As I do every year, I watch the parade and attend the following ceremony in our river side park to honor those who have fought to preserve our wonderful country. I took some pictures of those events and also of our houses here on the street who had flags flying high. Maybe I'll fix them up a bit and post some tomorrow. I also got a nice picture of Roscoe today.

I also did some work in the garden. I weeded around the vegetables and roses. I also planted some more bean seeds as the first batch has still not sprouted. I think I know the problem with my seeds this year. I harvested them too early last year. I should have waited till near the end of the growing season to get the seeds. I'll try to do that this year and see if that makes a difference in 2019. -30-


---

Sun May 27 2018 8:35PM - Conditions were good again this evening. I figured the way they were last night, I'd try getting on in the 2200-2400Z period this evening in the contest. What a joy it was. It started a little slow in the 2200 hour, but the 2300 hour was pretty much like the 0000 hour last evening. I'm going to transfer my log from my laptop to my main computer here and do a little analysis, especially counting and listing the different countries worked. I'm not going to write a full contest report (I don't think) though. OK, let me transfer the log. My network is not working right, so I may have to transfer via a flash drive.

OK, got the network running. I made 76 QSOs all told, 74 on 20, 1 on 40, 1 on 15. Total time about 4.5 hours for a rate of 16.9 QSOs/hour. A lot of time taken separating the DX from W/VE stations, since I was only interested in working DX. I missed Oceania for a contest WAC. I guess the Hawaii pipeline didn't benefit from the otherwise good conditions. I heard KH6LC very weak on 20, and couldn't raise him. I think I heard a couple other weak Hawaiians also.

Here's a list of countries worked alphabetical by common country prefix: 4L, 5B, 6Y, 8P, 9A, CN, CT3, DL, E7, EA, EA8, EU, F, G, GD, HA, HC, HR, I, KP2, KP4, LX, LY, LZ, OH, OH0, OK, OM, OZ, PJ2, S5, SM, SN, TI, UA9, VP5, XE, YL, YU. Let me count. That's 39 countries. I'm very pleased with that at this point in the sunspot cycle. It was nice to work Asiatic Russia, Georgia, Cyprus, Aland Island, again. I haven't worked those countries for a while.

I might do some more analysis and post it here in a future entry. Now it's time to close and get my weather readings, then walk Roscoe. -30-


---

Sat May 26 2018 10:43PM - Or is that year 2001? I think I went into a time warp this evening back to the last big sunspot maximum. At least 20 meters was acting like that. And to top it off, this was in the 0000Z hour not during the afternoon here. Just as I did back then, I was going up and down the band working most every European and African station I heard. I even worked a couple Asiatic Russian stations fairly easily. Just like back then. It sure was fun. I worked around 32 stations in not much over an hour. All of them DX. I don't bother working W/VE stations in the WPX contest. I just work the DX for the fun of it since I don't go for score. One thing made it hard. Picking out the DX from the W/VE stations since the DX was as strong as the W/VEs in many cases. UN4L was well over S9, but I couldn't break the pile to get him and gave up after just a few tries. There were too many other fish in the sea to go after.

The one thing different from 2001 was that 15 and 10 were nowhere near as good. There were a few stations on 15 and I heard one on 10, but that was it.

Remember I'm only talking about one hour and 15 minutes tonight and I wasn't on at all during the day today. So with another hour and 15 minutes last night, I have 43 QSOs all together. I probably won't be on much during the day tomorrow either. I just don't have the staying power I had when I was younger. But I do enjoy it when I do get on, especially when conditions are like tonight. -30-


---

Fri May 25 2018 9:27PM - From the time stamp you see I'm running a little late. I was in the WPX contest till a couple minutes ago. Conditions were good and the contest even opened up 15 and 10 meters. I was only working DX although I could have worked W/VE stations as well. I had a busy day today and could write a long entry, but it's time to walk Roscoe now, so I better get to that. -30-


---

Thu May 24 2018 9:07PM - Mike and I had our usual good pizza night last night. After the pizza it was off to the shack for some DX. Since I had already gotten my DX, I just let Mike work what he could. It turned out he got KP2M on both 20 and 40, and OT70TLS on 40. After that some hidden object games on the computer before he had to head on home.

Today was a good day for my birthday. Now I'm at a great age for a ham, 73. I did some yard work trimming my front yard bush before it got too hot. I still have to finish it, maybe tomorrow. Then it was over to the Ol' Station Marketplace to see what I could find. I didn't find much today. My birth minute is 3:20PM and I always like to be with someone at that time. Today it was Roscoe. Finally Roscoe's owner made me a little birthday meal of collard greens, biscuits, and hushpuppies.

DX was pretty quick again this evening, although compared to the last two evenings, it was kind of slow. I worked PZ5XX on a new band, 40 meters at 0009Z. I like these weeks before big DX contests. Makes it kind of easy to find and work stations setting up and getting ready for the contest. Now Saturday and Sunday should be easy with the WPX contest in progress. -30-


---

Wed May 23 2018 8:08PM - Just waiting for Mike to arrive so I'll do a quick entry before he gets here. Another quick DX QSO tonight, this time at 0001Z from HC2GRC Alex on 20 meters.

Did a lot of work today. Bought 4 beefsteak tomato plants at the local supermarket and planted them. Also planted out my pepper plants. Well, Mike is just pulling up so I'll close. -30-


---

Tue May 22 2018 8:29PM - I have never gotten my DX QSO any quicker than this evening, and I can never in the future get it any quicker, only tie it. I found PZ5XX calling CQ on 20 about 2359Z and not getting any answers. I decided to wait him out and hope he didn't suddenly QRT. He didn't, and as soon as my 100% accurate atomic clock hit 00:00:00Z, I called and he answered my first call. I think I had one other incident like that somewhere in my DX streak, but I can't recall for sure.

It was kind of a dreary day today or at least later in the day as the clouds increased slowly most of the day and finally built up to the level where we got one of the hardest downpours I can recall just when I was on the air. It didn't last long, thank goodness. It will be interesting to see how much rain is in my rain gauge when I check a little later. I would say the heaviest rain lasted only about 10-15 minutes.

We got quite a few reports on our Sunday parkpedition. It's always nice to hear from those we worked or also from those who weren't able to hear us. They give us an idea of how conditions were when we were there. Also how our antennas perform and what directions they work best. So thanks to all.

Tomorrow evening is pizza night with Mike. It'll be nice to see him again. We weren't able to get together much the past few weeks. In fact a search of my diary for "Mike" indicates we last got together for our April pizza night on April 25. -30-


---

Mon May 21 2018 12:38PM - OK, here we go with the pictures. My bandwidth on Windstream is getting close to being filled up because of a lot of picture posting lately. So I'm going to try something different. I'll put the pictures on my k3wwp.com site and link to them from my Windstream diary page. It should work. We'll see.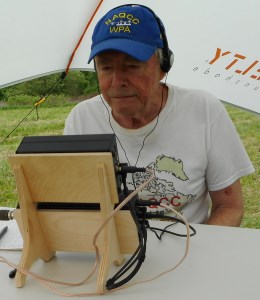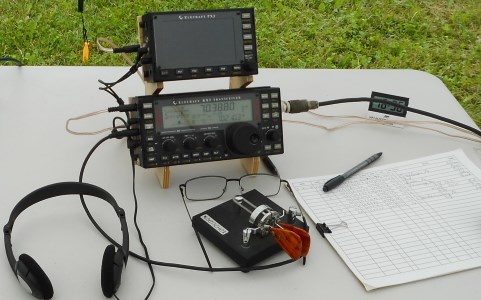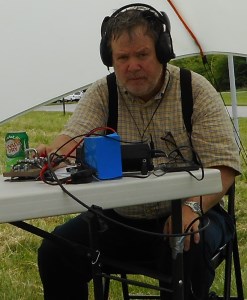 L-R above that's K3WWP, K3WWP's setup, WB3FAE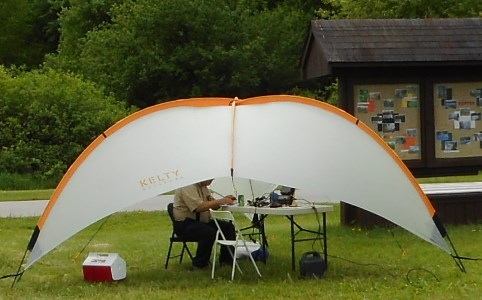 That's our little mis-named sunshade. There was no sun, but fortunately no precipitation either. So it didn't really protect us from anything, or maybe birds?




Finally a picture of my jumper inverted vee antenna. Unfortunately as with most antenna pictures, the wire never seems to show up all that well. You can see it sloping to ground against the trees background if you look closely. I also took pictures of Tom's antenna, but they were even worse and not worth posting.

Actually the height of the antenna masts is more than 20 feet. I knew that, but couldn't remember the exact height and was too lazy to look it up. If anyone really needs to know an exact figure, I'll try to find it or measure them. -30-


---

Sun May 20 2018 6:53PM - Although Tom and I had a good time at Moraine State Park today, the results of the parkpedition were not all that good for various reasons. There was one good hour from about 1538Z to 1630Z when we made 10 QSOs on 40 meters from 6 states. After that, it was like no one was interested in working us any more. CQs on 30 and 20 meters went unanswered.

When we weren't getting answers to our CQs, we tried chasing some DX. That also didn't work out. Finally we found out that Tom was having some kind of problem with his antenna. After some work on that, he was still having problems. We think we did find the problem at last, but too late to take advantage of it. It seemed the right angle connector going into Tom's KX3 was loose internally. When he was taking it off, it felt like something wasn't right with it. After he fooled with it, the antenna tuned much more quickly. I don't want to dwell on it too long, so let me just sum up our thoughts.

We think that the tuner in the KX3 may be just too good. Apparently it was tuning the defective connector to 1:1, and not really tuning the antenna system as a whole. It took much longer to tune the connector than it did to tune the system as a whole after the connector was apparently fixed. It's going to take some more thought, testing, and tweaking to be sure that is the case.

One thing that is becoming apparent and something that we referred to a lot after I first brought it up was that our age is slowing us down. When it seemed it was taking a longer time than usual to set things up, I said ten years ago we'd have been done with this a half hour ago. We used that as a catch phrase a few times during our operation and it is the truth.

We started out setting up my antenna, then our little sunshade. We set up my station and I started making contacts while Tom worked on setting up his antenna. After I made 7 quick contacts, I went and helped him finish his setup. After his setup was finished, I made 3 more contacts on 40 meters. It turned out those were the last QSOs we made. Tom soon noticed his setup just wasn't working right. He called other stations who were at S9 or better and they just weren't hearing him. That was because of the problem I described earlier.

Being at Moraine State Park near a hiking trail, we had several people stop by and ask what we were doing. It was nice to be able to explain to them about ham radio. Two folks who stopped were fairly new hams.

I took several pictures which still need some editing, cropping, etc. I think I'll wait and do that tomorrow and post them in tomorrow's entry.

I did get an email from someone who was interested in what antennas we were using, so let me describe them here, then they'll be in the pictures tomorrow.

My antenna was a simple inverted vee jumper dipole mounted on a ~20 foot mast. By closing/opening little slide switches in the antenna wires, it could be set for 20, 30, or 40 meters. Tom's was an end fed flat top random wire with a counterpoise. The ends were mounted on ~20 foot masts similar to mine.

All in all a good day with some disappointment along the way. We're going to do it again to try to have better results. That will be sometime after Field Day.

The weather today was just about perfect. It was cloudy and with temperatures in the upper 60s with very little wind, it was neither too hot nor too cold, but just about right.

To close, for anyone who is reading this and worked us, our grid square at Moraine was EN90 and the POTA for Moraine is K-1387 and for the North Country Trail which was right next to our setup is K-4239. -30-


---

Sat May 19 2018 8:34PM - I had written an entry saying I was still waiting to confirm our parkpedition for tomorrow (Sunday). Just after I finished I heard from Tom WB3FAE via telephone and we are go for launch, er for the parkpedition. It will be from Moraine State Park near Butler PA. We'll start around 11AM (1500Z) and stay as long as conditions warrant. We'll operate two of the following frequencies at a time depending on which two seem best - 7039, 10115, 14059. We'll use the NAQCC club call of N3AQC.

At least I've got my DX streak QSO in the books from HK7AAG on 30 meters. It's interesting how easily he copies me when it isn't that easy to work other stations from that area. -30-


---

Fri May 18 2018 8:56PM - The Good Days, Bad Days alternating pattern seems to be continuing. This morning and afternoon had some really poor conditions continuing from last evening. Finally I did manage to work OT70TLS again on 20 meters, but it wasn't an easy QSO and I appreciate the op sticking with me to finish the QSO.

This evening was much better. I was at the neighbors having some chocolate chip cookies and didn't hit the bands till a little past 0015Z. Then it only took a couple minutes to get a nice rag chew with Brad KR8P on 40 meters. Then not long after the rag chew I got TI8II on 20 for my DX QSO. I also heard TA3D at about 569 on 20. I tried him a couple times with no luck, and didn't pursue it any further since I alread had my DX QSO. Still it was nice to hear Turkey again. Oh and R5ZZ was also good on 20. Actually both of them worked TI8II before I did.

Oh, Tom and I decided to postpone our parkpedition till Sunday because of a pretty good chance of thunderstorms tomorrow. More in tomorrow's diary. -30-


---

Thu May 17 2018 8:38PM - I said I'd talk about the sprint last night, so here goes. My two alternate goals of operating for 30 minutes or getting 10 QSOs almost coincided. I got #10 just a minute or two before 9PM or the 30 minute mark. However, instead of quitting, since conditions were good and I was starting to get regular answers to my CQs on 40, I decided to hang around a while longer. I had started out on 20 meters where I got my first two QSOs in about 15 minutes or so. Then came to 40 for 8 QSOs in 15 minutes.

OK, we're into overtime now. It lasted for 23 minutes for a total of 53 minutes. In overtime, I had a steady stream of QSOs at a rate of about a QSO per 90 seconds. When I quit at 9:23PM, I had a total of 26 QSOs in 16 SPCs. I was a bit hesitant to quit since if I maintained that rate for the full two hours that would have been around 55-60 QSOs. However I did promise my neighbor I'd take Roscoe out at his regular 9:30 walk time instead of making him wait another hour since I really wasn't all that into the sprint before it started.

It was fun running stations like that, and maybe next month, I will just decide on doing the full two hours. Or maybe not, we'll see.

Tonight the bands were in horrible shape. The worst I've seen in a long while. When I first turned on the rig, it looked like it was maybe on 15 meters from the lack of activity. However, it wasn't 15 but 40. I thought to myself, oh oh, this isn't good. I did manage to work K9YII on 40 about 15 minutes later for the main streak. Not a sign of any DX though on any band. So as is happening more and more lately, it will be the morning or afternoon if the DX streak is to survive.

I haven't said much about this, but Tom WB3FAE and I are thinking of doing a parkpedition from Moraine State Park this Saturday if the weather cooperates. However right now it doesn't look all that good with showers and thunderstorms predicted. Stay tuned for an update in tomorrow's diary entry. -30-


---

Wed May 16 2018 8:10PM - Well, tonight I was able to get XE2I, unlike last night. It did take a few tries and a couple repeats when he did finally hear me, but that's good enough to keep the streak going as we slip further toward the bottom of the sunspot cycle.

It's our NAQCC sprint tonight. Since I retired from active duty in the NAQCC, I seem to be losing interest in the club events. I've not done the past couple months challenges. Tonight I plan to just either try for 10 QSOs or quit after 30 minutes, whichever comes first.

I'll talk about how I fared with my sprint plans in tomorrow's entry. -30-


---